Scot McCloughan and the 2016 Offseason: Are we Right to be Concerned?
---
Welp, we've made it. 
       The regular season is finally upon us and we've just entered the first game week, so naturally we fans are feeling the nerves kick in and are ready to start freaking out, jump off ledges, and kill each other and everyone around us.  
Look around ES a little and tell me I'm lying?
      Now, I can understand people's concerns about this offseason, but I think they're missing the forest for the trees. I sincerely believe those who are frustrated about things, to the point of calling this offseason a failure (or even perceiving it as Scot not doing enough this go around), were assuming we were one or two position groups being solidified away from being a Super Bowl contender. 
     Yet, Scot has repeatedly stated we need about 10 more "reds" (eg solid players) to be "there", and that was even after this year's draft. Some of us, on either side of this debate, are assuming Scot doesn't think Dline or RB is a weakness, but that's a faulty assumption. That's simply a misunderstanding about how BPA really works, and not just regarding the draft but in an organizational approach to personnel altogether. 
1) It just wasn't a very good draft or,

2) Our depth has gotten a lot better and we can't afford to just hold on to guys because they were draft picks. 
     Of course, this is ignoring the fact that two draft picks (Steven Daniels and Keith Marshall) went on IR, and if you're simply writing them off this guy might have something to say about it: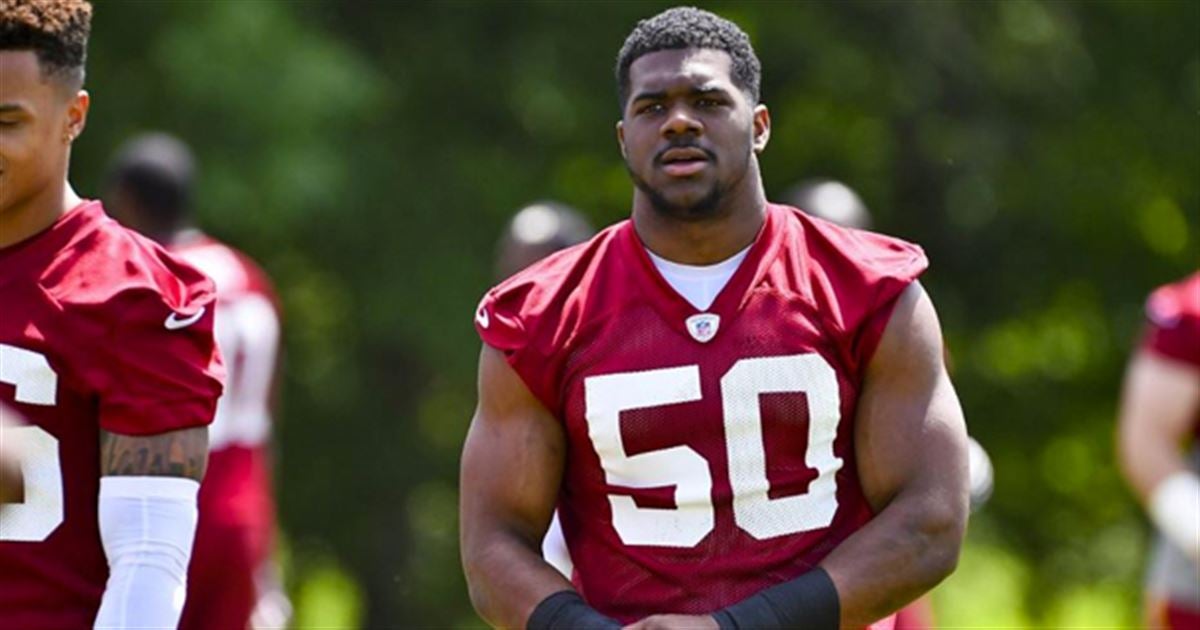 So, here's the thing. There are signs all over the place showing us that this is the right way of doing things. Maybe none more evident than the team keeping someone like Lanier on the roster, which says a lot more than what it seems to on the surface.
     But, if I'm being honest here, he's nowhere near ready to be anything other than
maaaaybe
a situational pass rusher on the line. Which is why I felt he would likely get cut and placed on the Practice Squad.
Even posted about this very thing a few days ago.
 I, like many others, assumed we needed bodies on the Dline that could contribute immediately and was expecting Jenkins to make the team over him. 
    However, what he IS, is young and full of potential, thus making him the BPA over others who may have been safer or more short-term fixes. That's great and indicates a focus on the long term outlook of the team, even if it's at the expense of the present. Maybe we would've been stronger at Dline right now with someone else, but is our organization better off in the future? 
    They could've kept Jenkins on the Dline or kept Mack Brown on the roster, but instead they kept a guy like Lanier who needs time to develop but is filled with promise. Another example? They could've kept Ioannidis on the roster simply because it's an area of concern and he's a draft pick, but then a guy like Everett - who is the better player and a young guy as well - is likely to get cut. 
Even though he plays at a position of strength, we kept him.
      This is what BPA is all about. This is how you build a strong roster that can consistently contend over time. You take the better player over perceived need. You go into the season with only 6 Dlinemen and 3 RBs because others playing different positions were better. It's as simple as that. 
    It's the correct approach. Yes, you're going to have clear weak areas and it might cost you games, but then you're going to have clear strengths because there's less of a chance at missing on guys or having guys go elsewhere and be successful because they can actually play - which should win you games. Aside from the obvious benefit to our depth (shouldn't we, for instance, feel good about Safety for the first time in years with DHall, Bruton, Blackmon, Ihenacho and Everett there?), you get the added bonus of eventually being so rich at one or two positions you can swing trades. 
    Oh, and, guess what? We got a boatload of draft picks we're starting to stockpile to do just that, as well. To get that we gave up an entire round this year. Again, short term loss for long term gain. 
Quote

McCloughan on trading draft 2015 draft picks: "A lot of people don't want to do it because it's not immediate impact. 'Well, that's next year. What about this year?' Coaches want this year, which I understand completely. But what it gives me the opportunity to do is not just worry about next year's draft and trading up and that kind of stuff, but this offseason and during the season trading. We've got multiple picks now."
    Although it didn't work out in the end, we've already seen the truth of this statement in action with the Stork trade. Moving back from the ledge, yet?
    Eventually, those weak areas will naturally be addressed just by the law of averages. It's extremely unlikely that things will fall, two off seasons in a row, where BPA in the draft isn't at those weak positions or guys in Free Agency are way too overpriced to address it there. 
     But it requires patience. We need to go back and see what Scot's said all offseason. Like here: 
Quote

On not addressing the defensive line until the fifth round:

 

"I was looking. Again, it's best player [available]. It's 53 guys. In my personal opinion, if you draft for need, that's when you get in trouble because all of the sudden you're like, 'Son of a gun, we had these three guys higher and they're going to the Pro Bowl, but we forced the issue to take that guy.' I wanted to address it early. I wanted to address it [in the] first five picks, but again, I'm taking the best football player. I have to. For me to do my job and make this organization as strong as it can be, I've got to take the best football players."

 

 

On comparing the defensive line depth in the draft class to the depth on the roster:

 

"Yeah, you can say that, but looking at the depth and looking at the names and that stuff, but you know what, we still have good football players on the defensive line. We've got a lot of good football players on the defensive line. I would have loved to add a younger guy – younger guys – but it didn't work that way. Like I said, we went into it and if you had told me the night before I'm taking a receiver in the first round, I would have laughed at you and said you're crazy. But he was the best player. I don't want to force the issue, but I understand where our depth is at. I understand who can and can't play. We're OK upfront. We're OK."
    To think we're all on top of these weaknesses and he's just missing the boat here in terms of addressing them is laughable, and I'm not someone who won't criticize him if necessary. Heck, I'm still concerned about his past/family issues while most consider it a nonissue. 
     He could've went all out and addressed every area of concern on the roster, but then we'd have likely reached in the draft for a lesser talent and/or overspent in FA. Look at what the Giants paid average players to fix their Dline this offseason. Do we then miss out on Norman when he unexpectedly became available? Ryan 
Kelly, the center out of Alabama, was taken a few picks earlier than ours in the first round. If we wanted him, it would've cost us significant draft resources to move up ahead of Indy. What players are lost in the process, then, and can we afford to give them up for one Center?
     That is what an anxious, impulsive man does when running an organization. That is the exact problem we've seen for so long from Dan and Vinny. It is the very essence of the fan-fueled, emotional "quick fix" philosophy that has been absolutely devastating to the organization. I'm not being lazy here and talking about the age old criticism of Dan trying to "buy" a championship... I'm talking about the obsession of attacking every weak area during the offseason while assuming everything else will remain as is. 
     I mean, come on, we as Redskins fans should know better at this point. How often did we have an offseason where it seemed like we totally addressed all the areas of weakness/concern, assuming our previous strengths will remain as such, only to find out we reached/overspent on those players we thought would solve things while suddenly and unexpectedly watching our assumed strengths become gaping holes in the process?
    Then what does the team do the following offseason? Rinse and repeat. 
     We've seen it a million times, haven't we? And in all our desperation to immediately become a contender, we set ourselves back because we had a roster filled with those misses who not only played poorly, but also cost us valuable development time for better players. Or we just cut those better players altogether. 
     This is the difference in philosophy that has us keeping guys like Lanier and Everett on the roster. 
     As of now, and due to our current philosophy, we may have three elite positions on the team at QB, WR and DB. And that doesn't look like it'll change anytime soon. You can't ignore the fact that not addressing other spots or perceived areas of weakness has allowed us that. 
    Calling this bad in any way is simply ridiculous to me, and I think it just comes from the nervousness occurring within us as the season approaches and knowing we've got some weak spots at key areas. If we can't see past the 2016 season, well, we don't have a solid grasp of where this roster is at. Fortunately, for the first time in forever we've got some adults in charge who do. 
     I'm sorry to sound a little harsh here, but get used to the fact that we might be further from an elite team than we'd like to think as fans (naturally), and that our way of thinking could easily set us back from getting there sooner. 
     Now, that doesn't mean we have to ignore any bad move that's made or assume Scot and the FO have been perfect and have had everything go as planned. I'd bet, if they were being honest, they'd admit they were wrong in this or that case; and/or didn't see this or that coming; and/or thought the draft would fall like this instead of that... but that also doesn't mean they did poorly, or that things suddenly aren't going in the right direction and we took a step back. Actually, no need to bet on it: 
Quote

On sticking to his decision making process:

 

"At a time when your roster is really strong and you're a really good team, then you can start worrying about things on the back end. Right now, we're going forward. We're taking the best player and throwing them in there. We're not always going to be 100 percent accurate. It's not an exact science, but we're going to keep going and going and keep adding players."
     Not to sound all preachy, but we should be happy and satisfied that we've got a group of guys in charge who have a plan; can adjust in the right way (and not panic) when things don't go accordingly; and are properly assessing the roster's state, therefore avoiding the wishful, faulty, thinking that causes teams to give up too much of their future while assuming they're close enough to contend. 

     I know this may be too much to ask but can we, as fans, take their lead and be as patient as them when/if we lose this season? 
      Because, as hard as it will be at the time, it'll be the right thing to do. No homer, just the truth.
16