ES Game Day Coverage: Redskins vs. Packers - Preseason Week 2
---
 Landover, MD -   Greetings to all my fellow ES'ers and ES'ettes! It's your neighborhood friendly TSO up here in the Press Box at FedEx Field along with the greatest photographer in the universe (verified fact, he has a plaque stating such), my man @Spaceman Spiff. We're here to provide you the best Redskins' coverage you'll find on the planet and, perhaps, in the universe - though I must admit Planet X5567 from the Controria Quadrant does a pretty good job of it themselves. Sorry for that, news of an Obi-Wan Kenobi movie in the making clearly has me overly geeked out.
    Anywho, does this feel like just another preseason game to you? Not if you're as hardcore as we folk here on ES are. We had talk of Jay's "soft" approach to Training Camp, of which arguably cost us big time last year when the team came out and laid a massive goose egg against the Steelers during the season opener, all week where some felt last week's game against the Ravens was another indication of such an approach. Jay himself, to his credit, admitted during his presser on Wednesday:
Quote

 .......I just think when you talk about 'wakeup call,' I just think everybody has to come out and understand the other team has an agenda also. We didn't match the same agenda, and that's probably my fault. You know, six plays, two three-and-outs for the No. 1 offense wasn't what we expected, but we expect our offense  to come out and play a little bit better, more physical, try to get the running game going a little bit. Two-point-two yards per carry is what I was most disappointed in the whole game. For us to be a physical football team, we have to be able to run the ball better."
Also, this: 
  Not to mention the anxiousness that exists within the fanbase to see our Defense show signs of real, identifiable legitimacy - if it exists at all - where every gaffe is honed in on and nitpicked to death. I'll also be continuing my intense focus on the Dline that started with last week's game here.
   Then there are the players we haven't seen yet due to injuries. Of course, that starts first and foremost with none other than Josh Docston. We've seen such a minimal amount of live snaps from our 2016 1st rounder it's cut a deep gash in our fan souls. He's a game time decision so we'll find out soon enough if we'll be given some much needed healing. Preston Smith should be playing today along with Jamison Crowder, who will both look to get their first snaps of the preseason. And don't forget some of the young'ns who finally started practicing this week which leads me to the final proof of this game's heightened meaning...
    The still strong and remaining excitement regarding the potential of this year's draft picks. Whether it's our early picks in Allen and Anderson (another game time decision) or the later round guys like Sprinkle, Harvey-Clemons and Holsey... every player has buzz surrounding them. And as alluded to above, our mid-round guys in Fabian Moreau and Montae Nicholson should finally be getting some snaps for us to dig into.    
So, yeah, suffice to say I'm certainly excited. Preseason or not, I can't wait to see what goes down! 
Stay tuned for more tweets, notes, player interviews and general coverage all throughout the day, pre-game and post-game!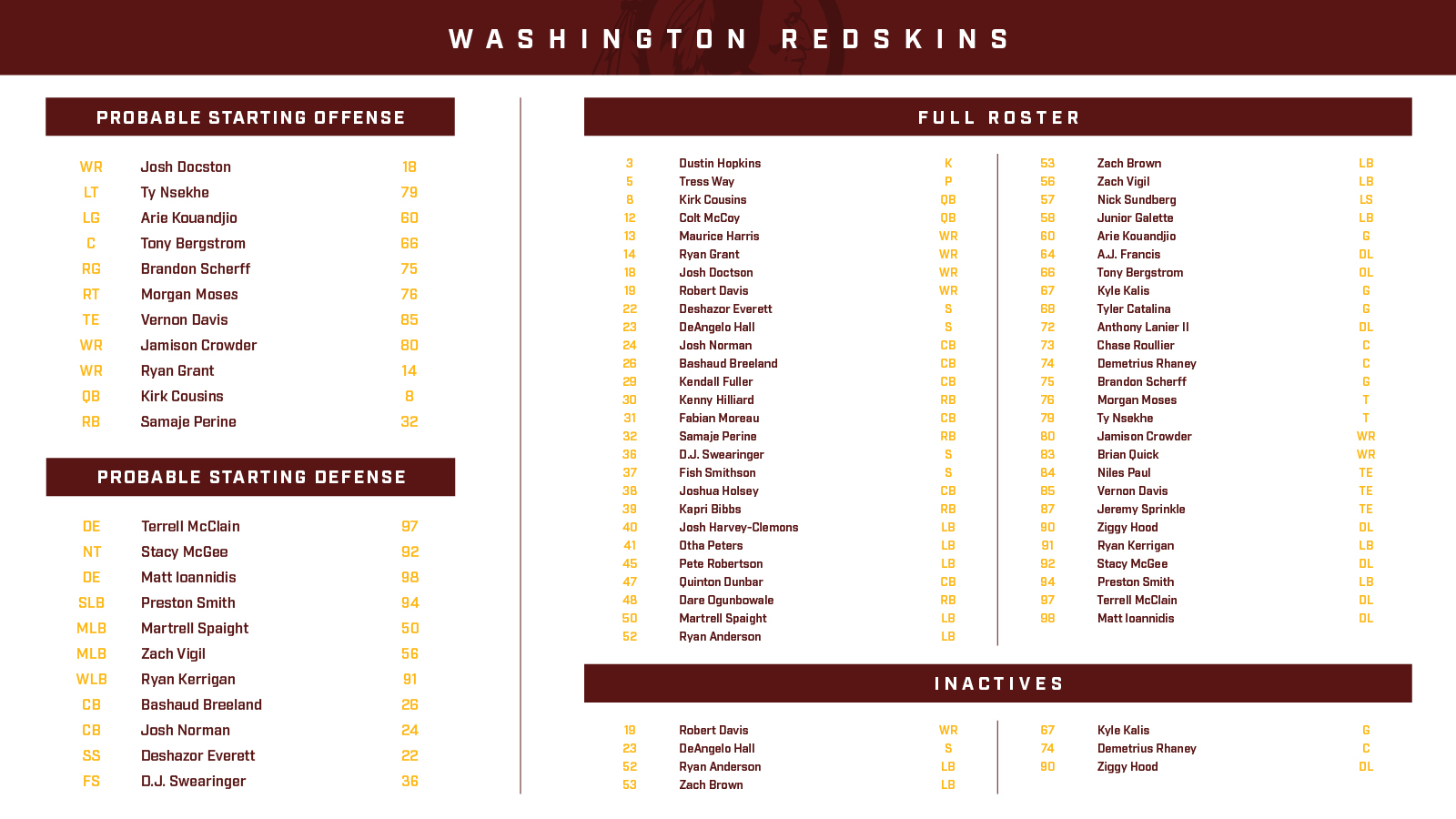 As usual when I do this, I'll be focusing in on the trenches (well, mostly) since everyone will be following the ball. Got the binoculars ready to go.
1st Quarter Notes
-Shawn Lauvao driven back on first snap for offense. No gain for Rob Kelley. 
- Moreau, first snap in the NFL, causes fumble on punt return! 
- Ty Nsekhe gives up pressure to Matthews on following snap, 4th offensive snap of the game. 
- Oline holding up well outside of those two gaffes. 
-  McGee, Hood and McClain starting on the Line, nice pressure first snap from all of them. 
- Nothing much from any of the DLinemen the next two snaps. Allen and Ioannidis were in the nickel defense on 3rd down.  
-  McGee, Hood and McClain again on following play after penalty. McGee with a nice run stop. Gets off his man, makes tackle.
- Next play, Hood pushed back, allowing 5 yard gain from RB. 
- Allen over pursues, leaves gap on run play following a few quick plays from Rodgers. 
- Ioannidis follows with a good run stop.
- Ioannidis with a good pass rush on following 3rd down. Rodgers does Rodgers' things and runs for a first. 
- Terrell McClain with a good rush on 2nd and 6. 
- Hood and McClain are the linemen in near the goal line. Do a nice job on 1st and goal after penalty to allow Foster to get the run stop. 
- Zach Brown played that well on the TD, just a good throw and good catch by Rodgers and Bennett. 
- Nsekhe and Sherff struggle on pass off, Sherff gives up pressure on second snap of ensuing offensive drive.    
- Fabian Moreau again doing a great job on the punt, first guy there and finishes the tackle. 
- McGee, Hood and McClain your starting linemen. 
- Sack was mostly Preston Smith, but McGee does a good job getting immediate push. 
- Allen and Ioannidis in. Allen with great awareness on screen. Sniffs it out immediately and gets in on tackle. Ioannidis did well to get immediate pressure on QB, but he was essentially allowed a free release since it was a screen. 
- Not much of a rush on following 3rd down from Allen or Ioannidis. 
- Offense back out. Moses is in. 
- Just no movement from Lauvao on run play, Moses pulling inside also nothing. 
- Following 3rd and 1, Moses and Sherff do nice job getting some push to allow Kelley to get the first.    
2nd Quarter Notes
- Oline doing well first two plays of 2nd quarter. 
- 1st down after penalty by Packers on 3rd down, Lauvao pulling but finds no one. Kelley still got a couple yards. 
- Ensuing 3rd down, Oline all do a good job in pass protection. 
- Lauvao pulls again on 4th down, not finding anyone. Surprised they didn't get the first, though. Seemed like it was enough. 
-  Ioannidis, Francis and Hood in now at Dline.
- Francis pushed back on the first play, run picks up a chunk.  
-  McGee and McClain in the nickel. Nothing much from either. 
- Same on the next play near the goal line. 
-  I'm dying right now, some Packer's media in front of me all excited, fist bumping after every TD. Probably some fan bloggers, it's annoying though. 
- Offense back out. 
- Oline does a great job on 2nd down. As clean a pocket as all night.
- Again, on 3rd down, nice job. Kirk with a dime. Finally. 
- Lauvao on following play with zero push, but Trent gets it. Kelley with decent gain.
- Thus far, the Oline really looks exactly the same as last year. Good at pass protection, but just no push in the running game. Frustrating. 
-  Lanier and Taylor out on the DLine now. Both do a good job on first down run. Pick up of 4 not their fault.
- Following play, Phil Taylor destroys his guy and gets into the QBs face quickly, great pass rush. 
- Following play on 3rd down, both are stymied and don't generate any rush.
- Following play, Lanier with a decent rush, but took a while to get off his guy.
- Play after the next, 3rd down, Phil Taylor with a great rush, beats his guy immediately, and finishes with the sack. He just looks the part. 
- Offense back out. 
- Following big play to Vernon down the sideline, Lauvao gives up pressure. 
- Following 1st down pass to Doctson, Lauvao gives up another pressure.
- 1st and Goal, no push upfront on run play. Thompson loses two yards.  
- 2nd and Goal, do a good job in pass protection.
- 4th and Goal, good pass pro, TD.
Half Time Analysis
   Welp, another frustrating preseason outing so far, but thankfully the first team offense scored their first TD of the preseason at the very end. 
   My major takeaways regarding the lines are:
1) The Oline seems to be exactly the same as last year. Strong in pass pro and unable to get any push in the run game. They're still too high, too often, and Lauvao is a liability.
2) As for the Dline, it was also a bit disappointing in comparison to last week when they played much better, but they weren't necessarily a negative. Phil Taylor looks great. Everyone else was just... meh. 
    As for the game, it was nice to see Fabian Moreau out there making plays on Special Teams. He looks the part, and even the bomb he gave up wasn't necessarily bad coverage on his end. Seeing Spaight get that big hit in the backfield was sweet. Montae Nicholson looked good, as well. Breeland struggled against Nelson, which is becoming a pattern for him at this point. The TD Zach Brown gave up was simply a great throw and catch from Rodgers to Bennett, and otherwise he looked good out there along with Foster. Compton actually had a nice play blowing up an OLineman.  
    Kirk was on and off, as was the entire first team offense. Not sure what is going on with them, but they've always got one or two guys failing. It was great to see Doctson out there towards the end, and he should've had a TD, but the moment he came free Kirk looked the other way, panicking in the red zone. But, yeah, can't help but get excited by Doctson. 
   Alrighty, let's see what happens the following half. Hopefully we get to see better overall play from the second teamers. 
3rd Quarter Notes
- Lanier and Mbu the Dlinemen 
- 2nd down, Lanier with a great pass rush, generates the hold! 
- 3rd down, Mbu with a great pass rush, spinning his way to a sack. He had a terrible game last week, so this is good to see. 
- Your 2nd Team Oline: Nsekhe, Kalis, Roullier, Catalina, and Painter. 
- They do a good job on first down run to the left. Perine gains 4.
- 2nd down run, Catalina doesn't get the push you'd like, but everyone else does a good job. 
- 3rd down, they do a decent job in pass rush. Nsekhe and Catalina pushed back a little bit, but maintain. 
- Middle of the line does a great job getting push on ensuing run. 
- Ensuing throw, Catalina gives up a pressure. 
- 3rd down, Painter lost on the outside, but McCoy gets it off quick. 
- Lanier, Francis and Taylor out at Dline now. 
- 3rd down, Lanier with a nice pass rush.
- These guys in front of me are actually flipping out about the way the Packers are playing right now. What the!?
- 1st down, Roullier, I believe, falls down and gives up a pressure. May not have been him, happened fast. 
- 2nd down, they do a good job run blocking except Catalina who ends up on the floor.
- 3rd down, good job all around. Big run by Perine to the outside. 
- Following play, Catalina gets no push, everyone else does but only slightly so. No gain from Perine. 
- 3rd down, Kalis loses his one on one, but McCoy throws quick to Paul for a TD. 
- Francis and Mbu are your Dlinemen. 
- Mbu looks really good today... beat his man right away, but run was away from him.
- Aaaand then he follows it up with good penetration, playing a role in the near sack fumble.     
- Offense back on. Bootleg, but Roullier doesn't seem to find his target, who almost gets McCoy. 
- Next play, great double team from Painter and Catalina, good push in general from the rest. Perine for a nice gain. 
- Next play, most get push, Roullier does a great job getting to the second level. 
- Following play, good pass pro from the entire Line. 
- Few plays later, last play of the 3rd quarter, Line does another great job in pass pro. 
4th Quarter Notes
- Mbu, Francis and Lanier are your Dlinemen.
- 2nd down, all three get pushed back slightly. Not very good, but only a gain of 3 for the rush. 
- 3rd down and short, again all three get pushed back. 
- Following 2nd down, Francis with a good run stop. Maintains leverage, sheds, makes tackle on run to the outside right. 
- Same OLine out, but Sudfeld and Matt Jones in.
- 2nd down, good push from all except Roullier, who gets pushed back slightly. 
- Mbu and Banks are your Dlinemen. 
- 2nd down, Banks beats his man for a nice rush, but QB gets it off quickly. 
- 3rd down, no pass rush from either.
- Not much from either of them the next few snaps, as well. TD Green Bay.  
- 3rd string Oline in now. Not much to note here. 
- Lanier, Pipkins and Banks in on the Dline.
- Few plays into the drive, Lanier beats his man soundly but running back too far outside of him to affect play.
- 3rd down with about 2:40 on the clock, zero rush from the Dline. 
- Offense back out. Kuandjio just got beat badly, Sudfeld hit hard but gets the ball out and Davis makes a great play on it.    
- Play after the roughing penalty, Kling just did a crap job on the speed rush. Sudfeld sacked. 
- 2nd and 17, good pass pro from all involved. 
- Good pass pro again on the following 3rd down.
Entire Exclusive ES Photo Gallery by @Spaceman Spiff found here: 
Player interviews found here:
Highlights from ES Exclusive Interviews: 
Pre-Game Tweets
2